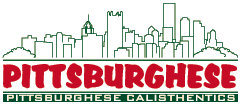 Pittsburghese involves the facial muscles as well as the vocal cords.
(Actually, it involves relaxing the mouth muscles so you canít "over-articulate"!)
Anyway, to prepare your mouth for the pleasure of speaking Pittsburghese, start with these warm-up exercises

Finished? Great! Now you're ready to study the Pittsburghese Glossary!
Exercise 1: "Relaxed and Ready"
Slowly massage both sides of your mouth.
As you massage, repeat the word "out" several times.
As your mouth muscles begin to relax, it should become difficult to make the "ou" sound. This is good.
Continue until you are so relaxed that you can only pronounce "out" as "aht".
Youíre now ready for the next exercise.
Exercise 2: "Dat's it!"
Produce the sound "th" several times.
As you make the sound, push your tongue between your teeth and bite down hard.
When your tongue is very sore, stop. (The pain will remind you to always replace "th" sounds with "d", as in "Da car is over dere.")